Box Sets
SWDUB001: The Dubs Box Set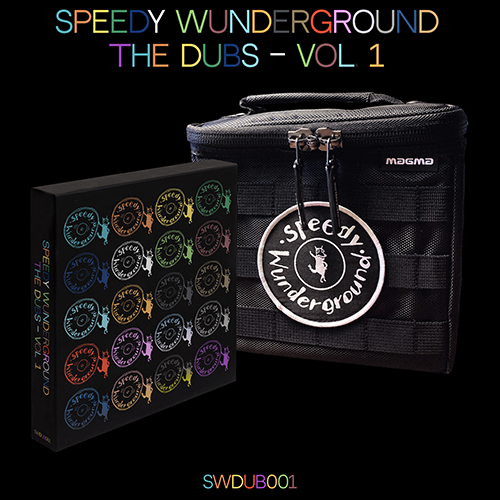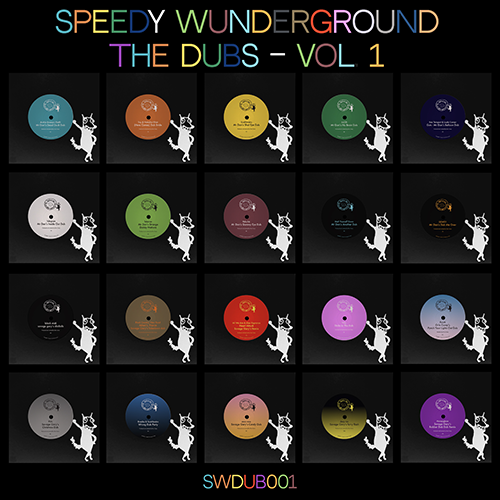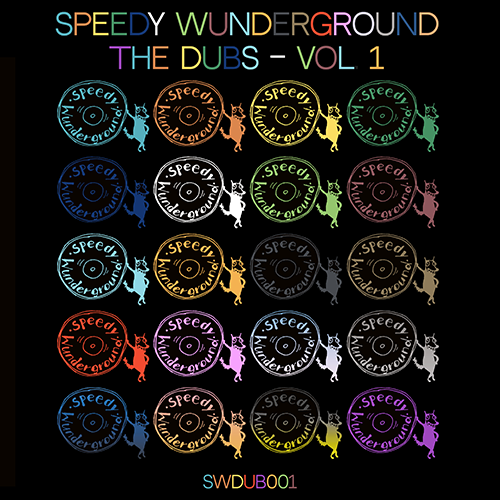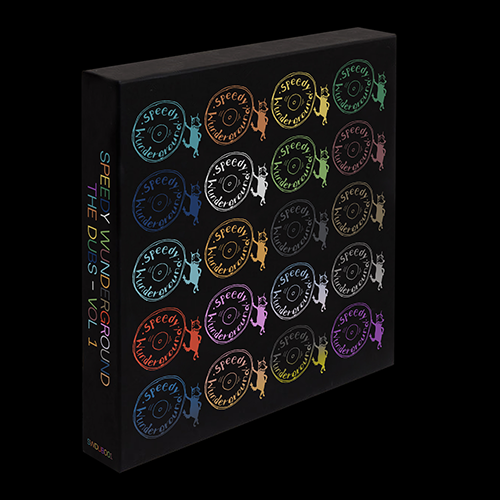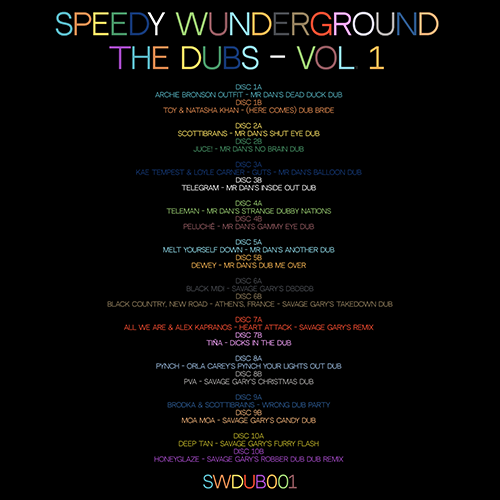 Release Date: 4th August 2023
Ten x 7" vinyl box set (20 tracks in total, one on each side, two on each disc) comprised of a selection of Savage Gary (Dan Carey) dub versions taken from the Speedy Wunderground single series.
Individual discs come in limited edition inverted black Speedy single sleeves – each track side labelled with the original corresponding single release colour it originally featured on.
Housed in commemorative anniversary slipcase box (with one right hand opening side).
Box: Outer wrap – 130gsm white silk printed in 4 colour process with machine seal varnish. Wraps mounted over 1500mcn white lined grey board.
Creased, die cut to shape and made to form rigid slipcase.
Record Bag
Limited Edition Speedy Wunderground x Magma Record Carrier Bag. Holds up to 50 x 7" records.
Constructed of water-resistant 1680D Polyester . The fully padded main body features a reinforced semi-hard PVC-body providing excellent protection (1cm thick EVA padding and integrated PVC walls for ultimate protection). Adorned with Speedy Wunderground embroidered logo patch on the front.
Other features: strong zipper, internal mesh pocket for 45 adapter storage etc and convenient carrying-handle and ergonomic shoulder-strap (not pictured).
Outer measures: 21 x 21 x 12.5 cm
Inner measures: 18.5 x 18.5 x 11 cm
Weight: 0.7 kg
Track List
---
1a – Archie Bronson Outfit - Mr Dan's Dead Duck Dub
1b – Toy & Natasha Khan - (Here Comes) Dub Bride
2a – Scottibrains - Mr Dan's Shut Eye Dub
2b - JUCE! - Mr Dan's No Brain Dub
3a – Kae Tempest & Loyle Carner - Guts - Mr Dan's Balloon Dub
3b – Telegram - Mr Dan's Inside Out Dub
4a – Teleman - Mr Dan's Strange Dubby Nations
4b – Peluché - Mr Dan's Gammy Eye Dub
5a – Melt Yourself Down - Mr Dan's Another Dub
5b – DEWEY - Mr Dan's Dub Me Over
6a – black midi - savage gary's dbdbdb
6b – Black Country, New Road - Athen's, France - Savage Gary's Takedown dub
7a – All We Are & Alex Kapranos - Heart Attack - Savage Gary's Remix
7b – Tiña - Dicks In The Dub
8a – Pynch - Orla Carey's Pynch Your Lights Out Dub
8b – PVA - Savage Gary's Christmas Dub
9a – Brodka & Scottibrains - Wrong Dub Party
9b – moa moa - Savage Gary's Candy Dub
10a – deep tan - Savage Gary's furry flash
10b – Honeyglaze - Savage Gary's Robber Dub Dub Remix